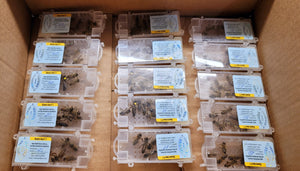 The Ukrainian queens are finally here!
🐝 👑 All the queens are finally here! 🍯🍯
Yeah! 🎉🎉🎉🎉🎉🎉
Now we have to wait for a good weather to help us start creating new colonies and introduce all those queens to their new families!
It is going to be a big job!We will split from the strongest hives.
1.When a beekeeper talk about splitting, it means we choose a strong hive. we take several frames with babies, food and pollen and we put them in a starter mini hive.
2.Then we have to "dump" a lot of Bees in the mini hive to give a boost to the new colony. Some bees will go back to their old colony. The young ones will stay in the new colony and will start to like the new queen! 
3.Then we introduce a queen in a cage like you see in the pictures. The Bees on the inside and on the outside will start eating the candy in the cage. 
We usually close the top of the hive and leave them alone for a week. 
4.After a week, we will go back and check each mini and see if the queen came out and started laying eggs. 
After several weeks, the mini hive will be to small for the colony. We will move them in a bigger hive which will their new home. 
ONLINE STORE at :
https://lebeaubees.com
Facebook page :
https://www.facebook.com/Lebeaubees/
Instagram page :
https://www.instagram.com/le_beau_bees/
#lebeaubees #maplesyrup #eatlocal #localfoodptbo
#bees #beehives #beeboxes #honey #beelove #smallbusiness
#Reaboro #lindsayontario #kawarthalakes #peterboroughontario #lanesendfarmandfiber #ontario #loveontfood
#LDCCProud #StrongerTogether 
#ShopLocal #SupportLocalBusiness 
#shopKL #ShopKawarthaLakes #TeamKL #TeamKawarthaLakes 
#DiversityKL #WelcomingDiversityKL
---