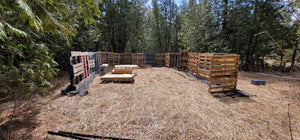 New Bee yard Setup with puppy guardians
Some news today : it was cold!... 😂 😂 😂 😂
I think everybody knew about that.
Introducing our new bee yard, designed to host buzzing honey bees in the most luxurious and defender-protected environment possible.
The farm puppies, as delightful as they are, provide a guardian role to ensure the safety of the bees, cows, sheep, and more!
You won't believe how cute these little protectors are! 🐶🐝
With the perfect hives and queens, these exquisite beehives will be buzzing with activity come June or July.
https://www.facebook.com/Lebeaubees/
https://www.instagram.com/le_beau_bees/
#lebeaubees
#maplesyrup
#eatlocal
#localfoodptbo
#bees
#beehives
#beeboxes
#honey
#beelove
#smallbusiness
#Reaboro
#lindsayontario
#kawarthalakes
#peterboroughontario
#lanesendfarmandfiber
#ontario
#loveontfood
#LDCCProud
#StrongerTogether
#ShopLocal
#SupportLocalBusiness
#shopKL
#ShopKawarthaLakes
#TeamKL
#TeamKawarthaLakes
#DiversityKL
#WelcomingDiversityKL
---