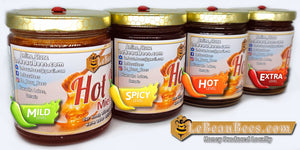 HOT HOT HONEY !!!!
We didn't really post for a long time! 🙏
I know I know and I am sorry. 🙏
😔 The farm where we were, was sold and we moved to Lindsay on the east side.
😊 BUT the bees will still stay at the farm!
📦 So we were packing and unpacking everything. And it took a long time to restart
Le Beau Bees
production.
😲 🎉🎈🪅🥳But we were also working secretly to bring our super new delicious 😋 product :
🌶️🌶️🌶️🌶️🌶️🌶️🌶️🌶️🌶️🌶️🌶️🌶️🌶️🌶️🌶️
We prepared with 4 different level of spice : mild, spicy, hot and extra hot 🔥
🌶️🌶️🌶️🌶️🌶️🌶️🌶️🌶️🌶️🌶️🌶️🌶️🌶️🌶️🌶️
ℹ️The products are already available online.
🌟Check out our events page : you can find us at the
Lindsay Farmers' Market. Since 1859.
Every Saturday from 7am to 1pm, starting in May!
😲 Very soon (tomorrow or later this week), we will post some updates about our bees. 🐝 It will be the first time, since winter, that we will see them.
😜😜😜And we have more exciting NEWS coming very soon!
Thank you all for supporting our tiny business.
And MERCI very much for all to appreciate our delicious and yummy 😋 products which we prepare with love and passion 😍 ♥ 😍 ♥
https://www.facebook.com/Lebeaubees/
https://www.instagram.com/le_beau_bees/
#lebeaubees
#maplesyrup
#eatlocal
#localfoodptbo
#bees
#beehives
#beeboxes
#honey
#beelove
#smallbusiness
#Reaboro
#lindsayontario
#kawarthalakes
#peterboroughontario
#lanesendfarmandfiber
#ontario
#loveontfood
#LDCCProud
#StrongerTogether
#ShopLocal
#SupportLocalBusiness
#shopKL
#ShopKawarthaLakes
#TeamKL
#TeamKawarthaLakes
#DiversityKL
#WelcomingDiversityKL
---