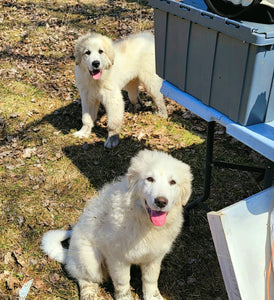 Checking on the bees for the first time after winter !
🔥 So today was a very hot strange day... 😂😂😂😂
Suddenly it was hot and next week it is going down which is not really great for our Bees and beehives. 🔥🔥🔥🔥🔥🔥
So to start this post, I am sure you are all wondering who are those 2 little puppies.
Since the farm was sold, the name changed and it is
Besa Acres
.
I invite you to visit their page and support this young family starting the farming adventure.
So those 2 little Sily monkeys are the new guardian dogs in training. They will be the bodyguards of everything and everybody. They are very lovely and very curious to check whatever is happening on the farm!
About our bees now : after winter, we lost 2 hives so far which is great and wonderful but we still need to be careful and keep an eye on them and on the strange weather. Today we went to check the Bees and everybody seem to be enjoying this hot weather. They are already bringing pollen.
If you check all the picture, a macro photo of a funny insect : it is a fake bee. It is actually a fly wearing a BEE's pyjama... 😂😂😂🤣🤣🤣🤣🤣😜😜😜
It is called Hoverflies (Syrphidae).
We are glad that a good part of our Apiary survived winter. Now it is time to start helping them build up all the colonies and prepare for the honey season.
https://www.facebook.com/Lebeaubees/
https://www.instagram.com/le_beau_bees/
#lebeaubees
#maplesyrup
#eatlocal
#localfoodptbo
#bees
#beehives
#beeboxes
#honey
#beelove
#smallbusiness
#Reaboro
#lindsayontario
#kawarthalakes
#peterboroughontario
#lanesendfarmandfiber
#ontario
#loveontfood
#LDCCProud
#StrongerTogether
#ShopLocal
#SupportLocalBusiness
#shopKL
#ShopKawarthaLakes
#TeamKL
#TeamKawarthaLakes
#DiversityKL
#WelcomingDiversityKL
---